With so many industries being dramatically affected by today's pandemic and resulting economy, we're all left to wonder what the futures of our businesses hold.
If you're in the rigging industry, you've likely had similar thoughts. Over the next few weeks, we'll talk repeatedly about what the future of our field might look like. Today, we want to talk specifically about wire rope slings.
These flexible steel cords have become commonplace in hoisting, towing, and anchoring projects. However, a decrease in all rigging equipment purchases has many wire rope sling manufacturers asking, "What does the future of this product look like?"
As key producers of wire rope slings in the rigging industry, we at Holloway Houston Inc. want to take a look at the growing importance of wire rope slings and what we can expect from them over the next couple of years – if not longer.
How the Wire Rope Sling Sales Market Is Divided
The first thing we need to address is the division between galvanized wire ropes and stainless steel wire ropes in the sling industry. Wire rope slings might be an overall popular rigging tool, but in order for manufacturers to make smart bets about the future, we need to understand both types and how they're useful.
Galvanized wire ropes are extremely strong and coated for corrosion resistance. They can withstand the mildest environments for a great price.
Stainless steel wire ropes are also corrosion-resistant but more durable when it comes to harsh environmental conditions. Stainless steel can even withstand long exposure to saltwater and acid.
Generally, manufacturers who produce galvanized wire ropes sell predominantly to the aircraft industry. In fact, the 7×7 galvanized wire rope has been dubbed the "aircraft cable" because of its tough construction and flexibility.
However, this "aircraft cable" is often sold to industrial and marine companies because it's fairly resistant to wear but also affordable. It's a versatile piece of rigging hardware and one that seems to boast long-term promise for manufacturers.
On the other hand, stainless steel wire ropes are the best option for work sites that need the strongest product. It's known for its high durability and safety features, which means many of the best brands for lifting accessories are interested in producing stainless steel options for years to come.
All things considered; we see places for both kinds of wire rope slings in the near future. Still, we'll continue to monitor trends in one direction or the other.
The Most Common Applications for Wire Rope Slings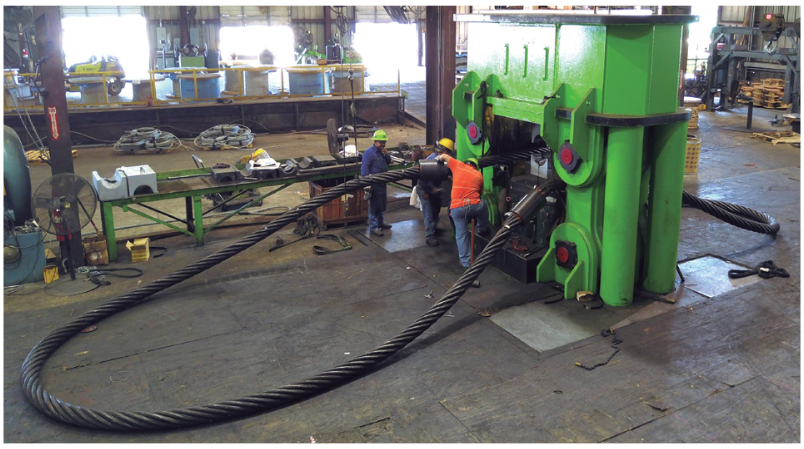 A big part of understanding the future of wire rope slings is looking at their current usage. Right now, most companies are using wire rope slings because they are:
Strong
Flexible
Resistant to abrasions/corrosion
Slow to fatigue
Difficult to rotate
These benefits make wire rope slings popular in a number of industries. Let's talk about a few of the biggest purchasers.
Offshore and Subsea Operations
One big industry that seems to benefit substantially from these features is offshore service. Almost every aspect of offshore (and subsea) operations involves some sort of lifting, whether its a complicated heavy lift or a simple movement of stores and spares.
Wire rope slings, especially when made of stainless steel, are the perfect rigging slings for coastal or at-sea conditions. They're resistant to salt abrasion and strong enough to handle the enormous loads of many marine job sites. There are even certified divers that use wire rope slings to confidently tackle difficult lifting operations under the ocean waves.
Offsea operations of all kinds have been impacted by COVID and rig infections, plus travel restrictions. Therefore, these companies have had a smaller demand for rigging equipment, but hopefully, we'll see sales begin to pick up as things return to normal in 2021.
Oilfield Drilling Platforms
There's no doubt that the oil industry has been hit hard in 2020. The global oil demand (and oil prices) have continuously decreased as COVID-19 spread and travel were minimized.
Still, between 2019 and 2025, it's estimated that oil demand will increase. A higher increase for oil means more rigging projects on drilling platforms – and therefore more use of highly durable, strong wire rope slings.
Construction and Industrial Lifting
You'll also find that many construction sites rely heavily on wire rope slings. They need durability and resistance – especially in harsh weather conditions.
Additionally, wire rope slings are easy to customize in terms of size and configuration, which is perfect for unique construction jobs.
In the future, our teams at Holloway Houston Inc. predict that wire rope slings will continue to become increasingly customizable as we learn to make them more resistant to moisture, heat, UV rays, and a variety of chemicals.
Construction rates have certainly been down in 2020, but based on projections from experts in the field, by 2023, rapid recovery and public-relief programs may have brought construction projects back to their state pre-COVID.
What We Can Expect From the Coming Years
Now we get to the good part: talking about what could happen with wire rope slings in the coming years.
The slowdown in world economic growth has certainly thrown a wrench into many manufacturers' budgets and sales. However, wire rope slings sales have maintained a relatively optimistic growth rate for years, and we expect to see a steady demand for the product – pandemic or not.
Some experts, according to the Wire Rope Slings Sale Market Size 2020 Analysis, even believe that in the next few years, the wire rope slings sales market will rise at a considerable rate.
Considering that, our teams at Holloway Houston Inc. will continue to include wire rope slings in our rigging equipment designs and sales for the foreseeable future.
At the same time, we'll also be monitoring marketing reports on the sling:
Specifications
Capacities
Production methods
Prices
Revenue expectations
Making any kind of prediction is difficult during 2020, but we feel confident in the continuous demand for wire rope slings as one of the most reliable pieces of rigging hardware.
Houston Holloway Inc. as a Key Player
Speaking of what we're doing at our facilities, we're continuing to manufacture and assemble a wide variety of rigging slings. We have clients in the oil, aerospace, OEM, and construction industries, and we'll continue to provide them with the innovative products they need.
Our wire rope sling products include:
As always, every sling purchased at Holloway Houston Inc. comes with a complete data book to ensure traceability. They also have stainless steel tags marked with invoice numbers, so you always know exactly which product you're working with during a rigging project.
In Conclusion
Our goal at Holloway Houston Inc. is to tirelessly strive for customer satisfaction and loyalty, no matter the difficulties our industries and others face. Our products, including all rigging slings, are created on a foundation of integrity and commitment to quality.
We might not know exactly what the next few years hold, but we do know this: all of our products are chosen from and built by the world's leading manufacturers. Holloway Houston Inc. will continue to produce new products that excel in safety, reliability, and performance.
If you have any questions about wire rope slings or other kinds of rigging equipment, please call 713-674-8352. You can also reach out via our contact page. Our rigging and lifting manufacturing experts are always ready to help.