Have you ever wondered how large machines like airplanes or windmills get manufactured to perfection? Or How Amazon manages to deliver your order in just days, if not hours?
How can you get fresh Washington Apples in India and Alfonso Mangoes in the US?
The answer to all these questions is material handling.
From manufacturing and construction to shipping and logistics, material handling plays a critical role in almost every industry. Globalization, along with the rapid rise of online shopping, has fueled the demand for efficient, cost-effective rigging equipment and lifting solutions.
The growth of globalized supply chains and efficient material handling facilities go hand-in-hand. Both concern the moving of large loads including rigging hardware, construction and machine parts, vehicles, and raw materials.
It is the biggest and fastest growing industries globally. The following stats will provide a glimpse of the industry and its scope.
The industrial lifting process is complex and challenging. If you choose the wrong rigging equipment or an untrained lifting crew, you might end up with potentially fatal injuries and/or damaged goods.
Having a thorough knowledge of industrial rigging equipment (such as wire rope slings, lifting shackles, crane lifting slings, aerial lifts, and forklifts) is a must.
Read on to know more.
Manual vs Automatic Material Handling Equipment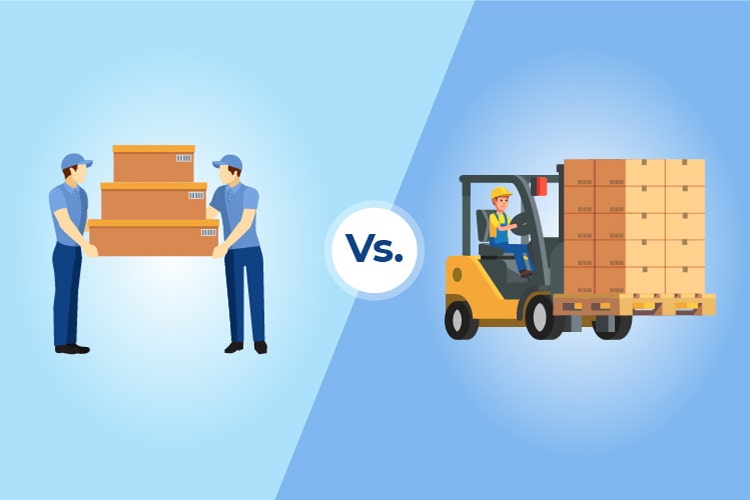 Material handling equipment is a piece of machinery that allows you to move or lift materials from one place to another. You can find manual and automated material handling equipment in almost every industry. Both types of equipment come with distinct benefits and drawbacks of their own.
Both types of material handling and lifting equipment come with distinct benefits and drawbacks.
Manual MHE
Cheaper and easier to handle.
Consider ergonomic factors like repetitive motions and awkward positions.
Higher chances of accidents, hence risky.
Manual handling is prone to errors which may lead to frequent downtime.
It doesn't require a large upfront investment, but can be expensive in the long run.
Automated MHE
Expensive and trickier to handle as you need trained labor.
No need to consider these factors.
Considerably less prone to accidents and damaged goods.
Automation, on the other hand, increases efficiency.
Although it requires a substantial one-time investment, it's relatively cost-effective in the long run.
While many industries, especially in third-world countries, continue to use manual material handling equipment, automation is on the rise.
Objectives of a Material Handling System – Reasons to Advanced Lifting Devices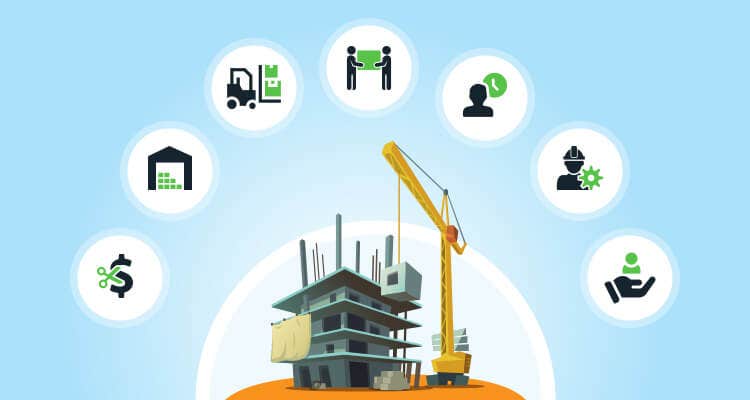 The industrial material handling process, like any other industrial process, requires a set of clear-cut objectives or goals. It allows you to use the system with the highest possible efficiency while keeping overheads down. Here are a few common objectives that you need to know about.
1) Cost Reduction
The primary objective of any material handling system is to reduce the cost of moving the load. The direct or indirect cost reduction often comes in the form of –
Decreasing material handling labor.
Optimizing the material handling labor depending on their level of skill.
Reducing indirect labor for activities such as shipping, wrapping, traffic controlling, and inspection.
Decreasing waste such as packaging materials and other protective devices such as racks and containers through optimization.
Lowering the chances of potential damages to the load.
Optimizing control requirements.
Ensuring quicker through-put and limited in-process storage to streamline the manufacturing process.
However, being an auxiliary system in any manufacturing process, optimized material handling can also bring the overall production cost down by improving the flow of raw material.
2) Enhanced Capacity
A well-planned industrial lifting system also increases your capacity through better space utilization and improved warehousing and storage layout. For example, you can use high-altitude cranes along with specially designed racks or containers to make use of unused spaces such as the area high above production lines.
Alternatively, you can also improve the layout of the production line to reduce travel and excessive use of space. Optimizing the flow paths and the timing of material movement will allow you to increase your overall capacity further. It will also lead to better utilization of your labor.
3) Improved Productivity & Efficiency
The third objective of a material handling system is to improve overall productivity and efficiency. Using automated industrial lifting and rigging equipment reduces the loading, unloading, and transportation time for raw materials and finished goods. Because the raw material sits on the docks or in storage for less time, there is no need for extra storage.
Further, the improved rate of raw material supply allows you to operate your equipment and labor at their fullest capacity. You can also optimize the number of loading and supervision crew. Thus, your overall productivity and efficiency can go up while keeping the labor costs down.
4) Improved Working Conditions
Handling heavy loads manually can be time-consuming, risky, and frustrating. Plus, you need to rely on a young and healthy workforce to move heavy loads, resulting in higher employee turnover and excessive need for training. All these factors also affect employee morale as the overall working conditions may seem too harsh.
However, you can use automated systems for lifting and handling material of any size, shape, and volume relatively comfortably. This, in turn, improves employee morale and the rate of output, resulting in higher productivity. Thus, material handling systems can improve working conditions significantly.
5) Reduced Waste
Material handling systems can reduce waste by improving the layout of your production plant. After a thorough analysis of the material volumes, flow paths between operations, and timing, you can make sure to reduce waste of time, space, and labor.
Usually, you will need to rearrange rigging equipment and develop the right handling systems to make this happen.
It will also allow you to decrease the waste of packaging material such as plastic wraps and cardboard boxes as well as storage material such as racks and specially designed containers. Reduced waste not only saves your money but also helps reduce environmental pollution.
6) Increased Safety
Manually lifting and handling material comes with a higher safety risk. According to the International Labor Organization (ILO), nearly 2.78 million workers die from occupational accidents and work-related diseases, and an additional 374 million workers suffer from non-fatal injuries every year.
Accidents can lead to fatal injuries, irrecoverable damages to the load, and costly downtime. However, an optimized material handling system can reduce the risk of accidents considerably, providing your employees with a safer workplace.
7) Improved Customer Service
Proper and improved materials handling systems often lead to higher efficiency, better speed, reduced production costs, and reliable and timely supply. All these factors, in turn, help improve your customer service significantly, especially in the B2B sector.
Categories of Material Handling Equipment
Material handling equipment is a broad term that encompasses a variety of elements: tools (ex. forklifts), vehicles (ex. trucks), accessories (ex. wire rope slings), and heavy appliances (ex. overhead cranes).
1) Storage and Handling Equipment:
Storage and handling equipment mostly consist of non-automated tools used to hold raw materials or finished goods. Using the right type of storage equipment helps increase space utilization and also streamlines the supply chain. Here are a few common types of storage equipment.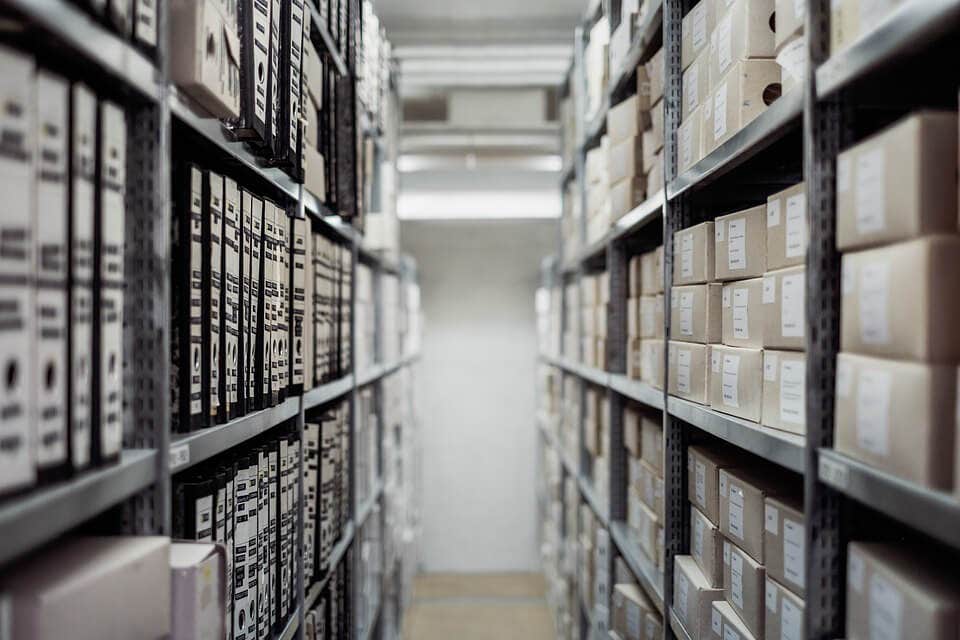 a) Racks:
You can find different types of racks including:
Drive-in racks where you can drive lift trucks between the uprights beams.
Drive-through racks that are similar to drive-in racks, but they are open at both ends.
Push-back racks provide gravity-based movement of the loads, allowing deep-reach storage without extended reach mechanisms.
Sliding racks have sliding rows of racks along guide rails on the floor.
Other types of racks include pallet racks, carton-flow racks, flow through racks, single and double deep racks, and cantilever racks.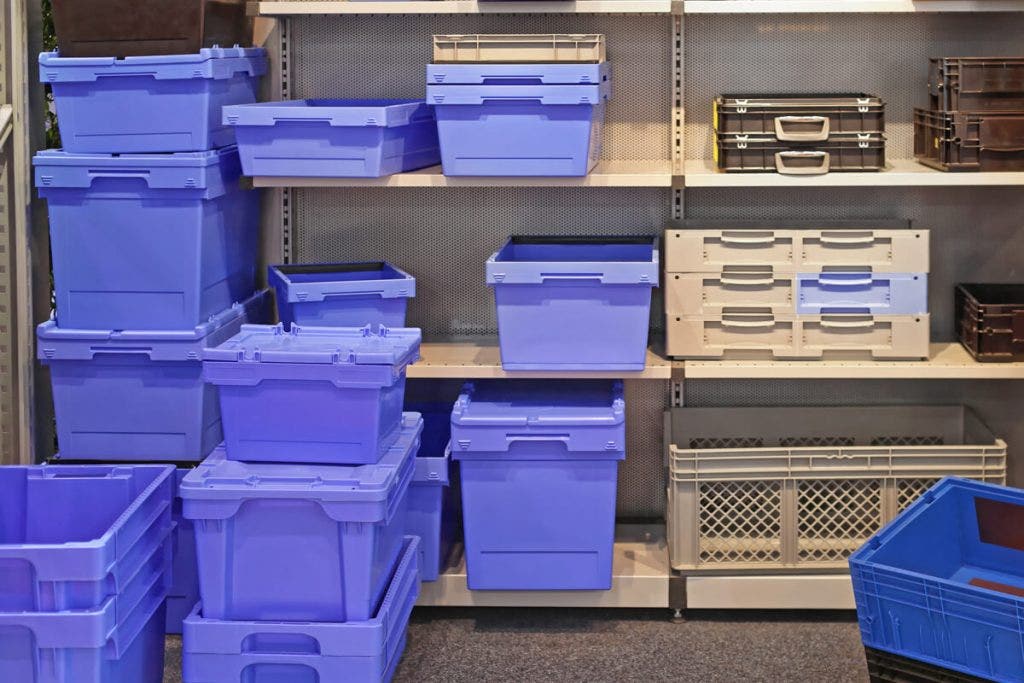 b) Bins and Drawers
Bins offer a low-cost alternative for storing small, loose, and lightweight items such as slings. Usually, you can place such items in the bin or a carton. Drawers also serve the same purpose but offer better security compared to bins. However, although low cost, neither is considered ideal for handling large load volumes.
c) Stacking Frames
These interlocking units allow you to stack the load to prevent it from crushing under the weight. You can assemble and dismantle the stacking frames as and when required to save the storage space. Pallet frames are often used for multilevel load stacking in warehouses.
d) Shelves
Strong and stand-alone shelving systems are made from galvanized steel and welded steel and metal wires. You can quickly assemble these shelving units and adjust the size of the shelves as required. Boltless shelving units are often used as stand-alone or interconnected heavy-duty storage units.
e) Mezzanines
Mezzanines are elevated floor systems often installed between the production floors and ceiling to obtain additional storage space. You can dismantle and move mezzanines whenever required.
2) Transport Equipment:
The transport equipment comprises various types of vehicles, particularly trucks, used for moving the load within or in and out of a facility. They can be manually operated or completely automated vehicles.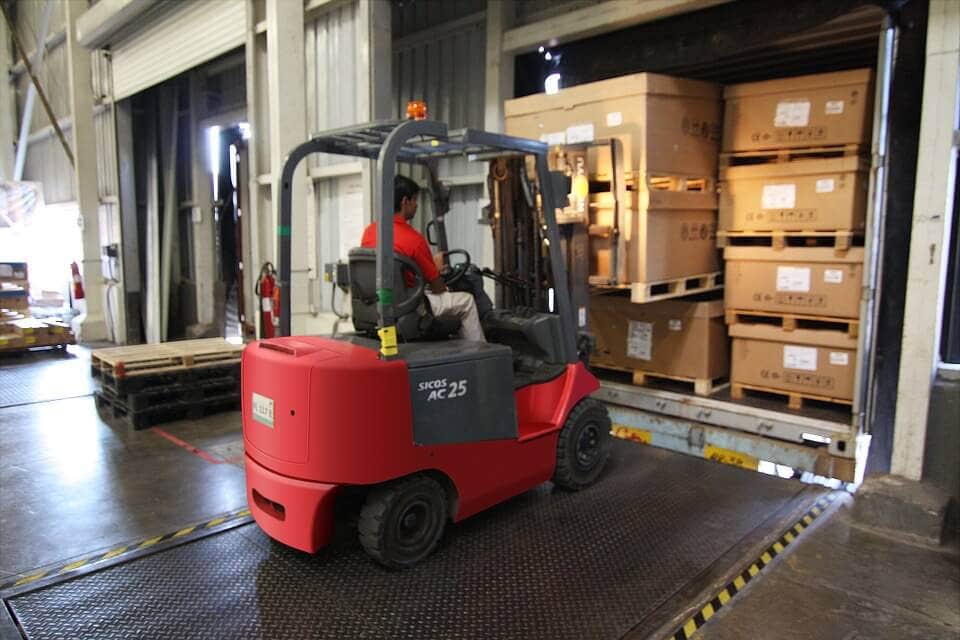 a) Industrial Trucks:
You can find a variety of industrial trucks ranging from simple l-shaped box-moving hand trucks and manual pallet jacks and forklifts to electrically powered order pickers, walkie stackers, and Automated Guided Vehicles or AGVs. Other examples include platform trucks, side loaders, personnel and burden carriers; turret trucks, counterbalanced lift trucks, as well as reach trucks.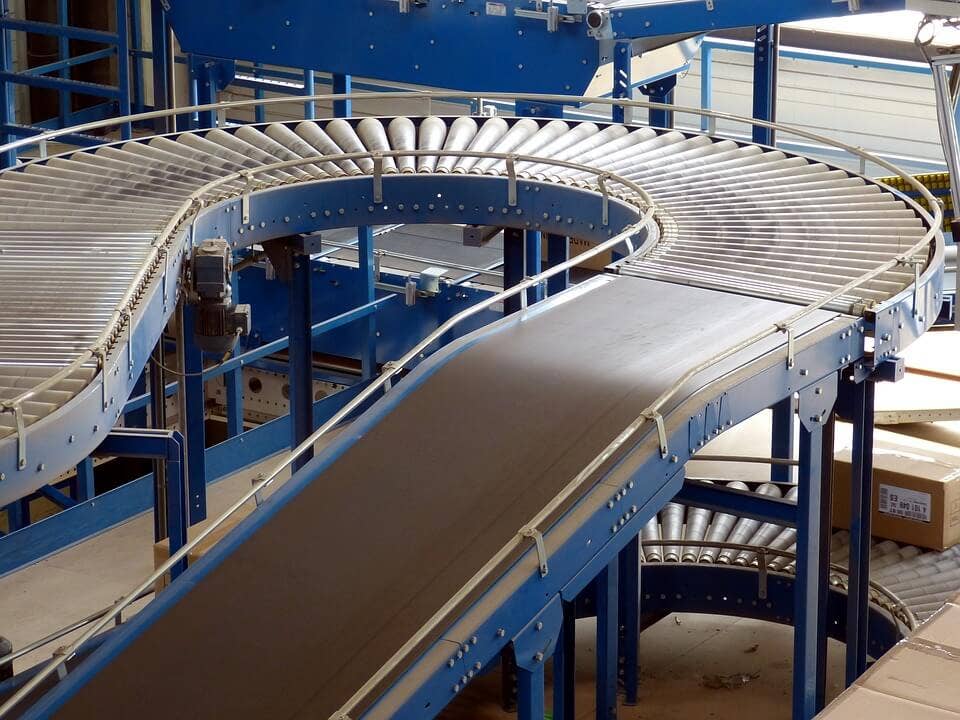 b) Conveyors
Conveyors or conveyor belts usually allow you to move material along a fixed path and between specific points. You can find different types of conveyors depending on the type of load being handled, location, and the operating mechanism. There is a wide range of conveyors including chute conveyors, roller conveyors, chain conveyors, slat conveyors, bucket conveyors, pneumatic conveyors, and vertical conveyors among others.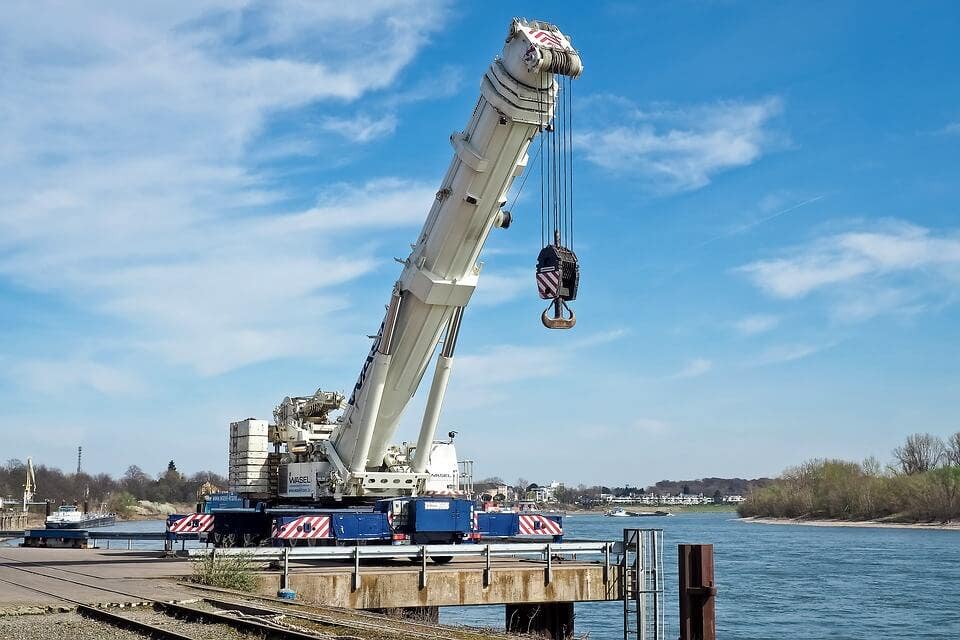 c) Cranes
Unlike conveyors, cranes are used to move loads across variable paths and distances. However, cranes have a lower rate of handling load volume compared to conveyor belts. The broad range of cranes primarily consists of jib cranes, overhead cranes, gantry cranes, and stacker cranes depending on their end use.
d) Lifts and Elevators
Industrial lifts and elevators are mostly used for vertical transportation. For example, you can use a freight elevator to move loads from one floor to another. Bucket and grain elevators are used for the same purpose. However, bucket elevators are meant to carry liquid or fluid loads while grain elevators often transport grains and similar materials.

3) Engineered Systems:
Engineering systems are mostly automated systems that work in tandem with other equipment for efficient storage and transportation of large volumes of loads.
a) Automated Guided Vehicles (AGVs)
Automated guided vehicles or AGVs are mobile robots that don't require a human operator. They can travel along a predetermined path carrying low-to-medium volume loads across variable distances. They use infrared vision and laser technology for quick and safe movement.
b) Automated Storage and Retrieval Systems (AS/RS)
These are large automated systems with racks, shelves, a shuttle mechanism, and retrieval robots. There are various types of AR/RS systems including vertical lift modules, carousels, movable aisle, and fixed aisle systems.
c) Conveyor Systems
Conveyor systems often have an intricate network of more than one conveyor belts that can move large volumes of loads continuously.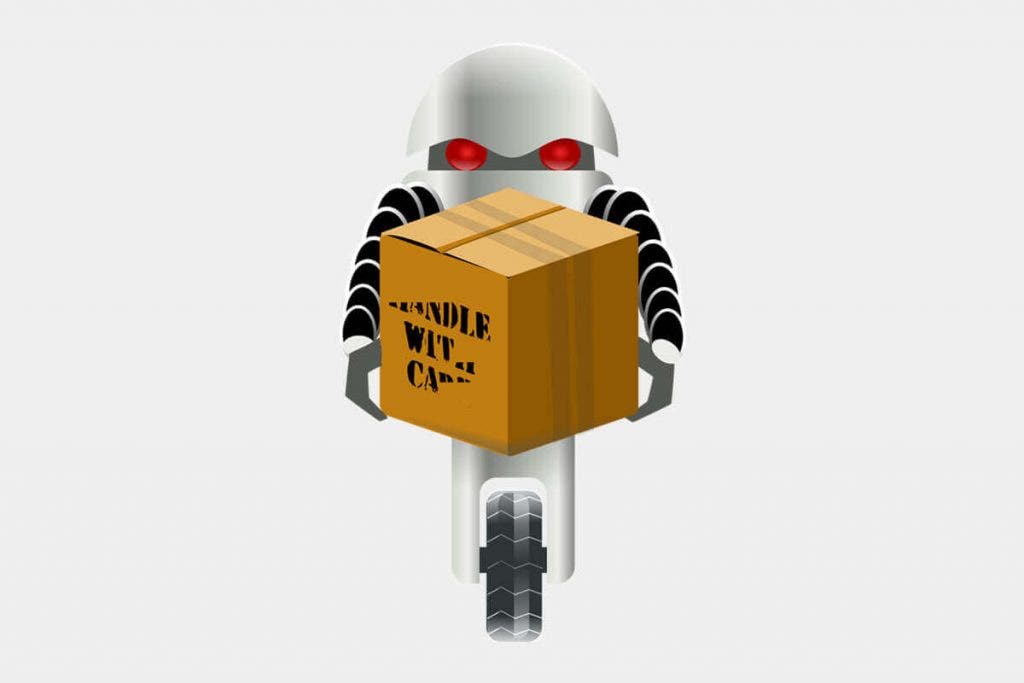 d) Robotic Delivery Systems
These systems use automated robots to move variable loads across an assembly line or even within the plants. For example, picking up objects from a conveyor belt and putting it on another.
4) Bulk Material Handling Lifting Equipment:
This equipment allows you to handle material in bulk or lose form. They are used for both, vertical and horizontal transport of goods.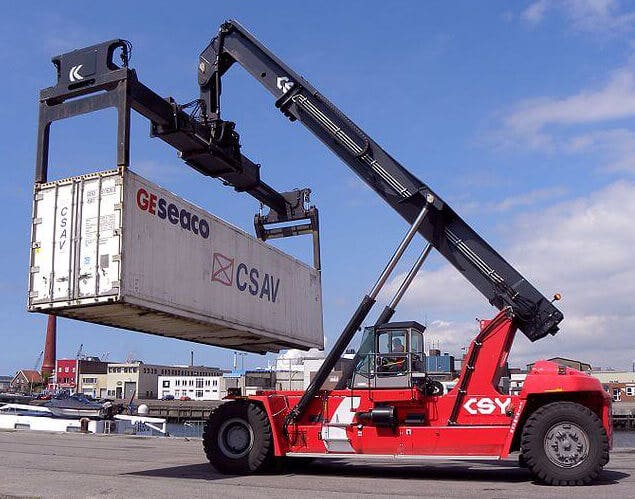 a) Stackers & Reclaimers
Stackers are automated or semi-automated tools that help you lift and stack heavy loads on the dock or the storage systems. Manual and powered walkie stackers and stacker cranes are also known as fork trucks on rails. Reclaimers perform the exact opposite function of recovering stored material from the stack. They are also powered or manually operated systems.
b) Hoppers & Silos
Hoppers are large containers with a tapering end with a small opening at the bottom. They hold materials like grains temporarily before discharging them into containers for packaging or further processing. Silos, on the other hand, are used to store grain and other materials such as coal, sawdust, woodchips, and food products.
Industries Where Material Handling Equipment Is Used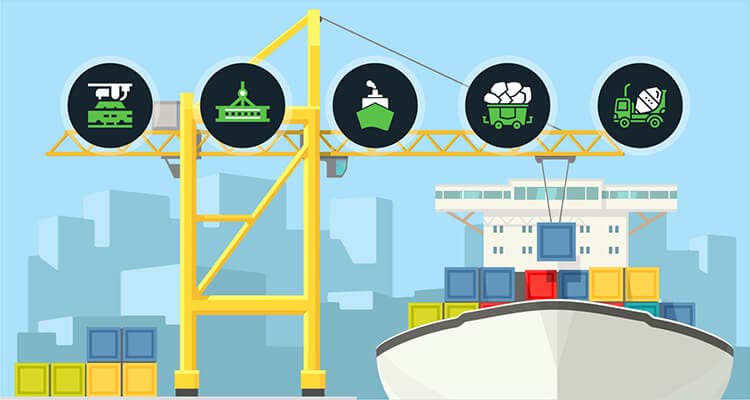 Material handling equipment finds applications in the following industries, serving specific functions in each of them.
1) Automobile Industry
Material handling equipment is primarily used on assembly lines in the automobile industry. It includes specialized heavy-duty conveyors and overhead cranes with travel cables for handling car hoods, seats, gear-boxes, engines, and other accessories.
2) Steel Industry
The steel industry uses material handling equipment on the production line for moving, cutting, rolling, and packing steel sheets or other steel products. They use equipment like wagon tipplers with associated equipment, heavy-duty conveyors, shuttle feeders, overhead bridge cranes, moveable feeders, twin-boom stackers or reclaimers, travel cables, and car pushers or wagon pusher cars.
3) Marine & Shipping Industry
The common applications include free moving and overhead bridge cranes, specialized high-speed and heavy-duty conveyors, stackers, reclaimers, and powered barge and ship loaders for moving, loading, and unloading freight containers.
4) Mining Industry
The mining industry uses different types of industrial lifting devices for moving, loading, and unloading mined products. These include light and heavy crane gantry systems, jibs and monorails, rigging slings, explosion and dust-proof lifting equipment, specialized conveyor belts, and electric and pneumatic chain hoists.
5) Cement Industry
Material handling equipment used in cement plants includes chain and belt bucket elevators, a wide range of conveyors including screw and belt type conveyors, rotary feeders, paddle mixers, screen and screen shakers, spiral chutes, bag filters, silos, as well as overhead bridge and rail crane systems.
Advantages and Disadvantages of Material Handling Equipment
Most industries use material handling equipment owing to their numerous benefits. However, they also come with a few drawbacks. Let's take a look at both.
Advantages
It reduces the movement of material and creates a steady flow, resulting in reduced labor costs and shorter operating cycles.
It eliminates redundancies like backtracking and re-handling, saving money and time.
It increases overall workplace safety owing to advanced automation and reduces the damage to materials during movement.
It increases worker efficiency by making optimal use of raw materials, labor, energy, and time. This, in turn, increases productivity.
It helps build a streamlined workflow that can adapt to the changing market demand reducing over or underutilization of labor and resources.
Further, it leads to better-quality products and timely production, resulting in higher profits.
Disadvantages
It requires a sizeable upfront investment in addition to the present expenses.
Not all material handling equipment comes with the flexibility to handle customizations in the long run.
In an integrated system, the failure of one element can bring the entire system to a standstill.
It may require additional maintenance and repair, adding to your existing M&O costs.
Material Handling & Lifting Equipment Challenges
Although material handling equipment offers plenty of benefits, it also comes with a few challenges of its own.
1) User Safety
User safety is a primary concern for business owners. According to a recent study, contact with moving machinery was responsible for 9% while getting struck by a moving vehicle and object lead to 31% fatal injuries.
Activities like handling, lifting, and moving were responsible for 21% of non-fatal workplace injuries while getting struck by a moving object lead to 10% of workplace accidents.
2) Inadequate Operating Knowledge
Currently, there is a lack of skilled and experienced workforce, making it difficult to provide a safe workplace environment. The lack of such workforce leads to higher labor costs, turnover rates, human errors, and downtime.
3) Human Error
Material handling is also grappling with the element of human error, which often leads to inaccuracies. This, in turn, may lead to fatal accidents, damaged goods, and production downtime.
4) Labor Costs
The shortage of skilled labor often leads to increased labor costs as the turnover rate goes up, increasing the cost of employee training further.  At the same time, it creates an inefficient workforce that often fails to meet the desired production goals.
5) Downtime and Lower Productivity
Delays due to accidents or equipment malfunction can also cause substantial downtime. In a globalized world, even a short downtime can disrupt the entire supply management change leading to significant losses. Further, increased downtime means lowered productivity.
6) Material Management
Not having trained material handling labor means increased production line inefficiencies. These inefficiencies may cause you to run out of raw material or overstuff your product inventory. While interrupted raw material supply brings your production down, overstocking decrease your cash flow and results in additional expenses to store extra materials.
Factors to Consider When Choosing Material Handling & Lifting Equipment
You can get the most out of your lifting and handling material equipment, provided you choose the right one.
1) Adaptability and Flexibility
Considering the sizable cost of lifting devices and hardware, it needs to be as adaptable and flexible as possible. You should be able to use it on more than one type of terrain and handle more than one type of material.
2) Load Capacity
It should have enough load capacity to handle the desired load. If the machine exceeds the required load capacity, you will end up paying exorbitant fuel and labor costs. Under Capacity, on the other hand, will cause damage or even fatal accidents.
3) Type of Material to be Moved
The size, shape, weight, fragility, and type (solid, liquid, gas) of the load will also affect the choice of your equipment. For example, you can't use wire rope slings for moving massive airplane parts – you will need chain slings.
4) Speed and Power
The equipment also needs to have sufficient power and speed to move the desired load without causing any damage or accidents.
5) Site Layout
Space availability is also a critical factor in selecting material handling equipment. For example, low ceiling heights may prevent you from using overhead cranes, while pillar and columns might restrict the movement of large trucks or forklifts. Take a closer look at your work site before investing in a piece of equipment.
6) Cost
The final consideration is the cost. You need to consider everything, from the upfront buying cost to operating and maintenance expenses along with the skilled labor cost. Make sure to calculate and compare all these costs before taking the final call.
Principles of Material Handling
Regardless of the equipment you use, considering the following material handling principles will help you design an efficient system.
| | |
| --- | --- |
| Planning: | Plan everything from how, when, and where the material moves and gets stored including the potential delays, downtime, and contingencies in your system. |
| System: | Plan everything from how, when, and where the material moves and gets stored including the potential delays, downtime, and contingencies in your system. |
| Material Flow: | Build equipment layout and operation process to optimize the material flow. |
| Unit Load/Size: | Choose a unit size or a load of material based on the right weight, size, cost, durability, and ease of use. |
| Space Utilization: | Use all the cubic space for storage, conveyors, and material handling equipment efficiently. |
| Standardization: | Standardize handling methods as well as types and sizes of handling equipment wherever possible. |
| Ergonomics: | Design the system to ensure effective interaction between human operators and the equipment by acknowledging human capabilities and limitations. |
| Energy: | Consider energy consumption and its costs when setting up the system. |
| Ecology: | Try to use processes and equipment that will help reduce environmental pollution as much as possible. |
| Mechanization: | Mechanize the handling process wherever possible to reduce manual errors and labor costs. |
| Flexibility/Adaptability: | Use flexible processes and equipment that can handle a variety of tasks under different operating conditions, enabling a better return on investment. |
| Simplification: | Reduce unnecessary and uneconomical processes or equipment to simplify the system for better productivity. |
| Gravity: | Use gravity to move material wherever possible to reduce energy consumption or labor cost. |
| Safety: | Create safety guidelines, provide safety training, and follow existing safety codes and regulations when setting up and operating the system. |
| Automation: | Consider automation wherever possible to ensure improved material handling, better information control, and reduced labor costs. |
| Data Flow: | Ensure optimal integration of the data flow with the physical material flow throughout the system. |
| Control/Tracking: | Use technologies such as RFID and barcode to keep track of your inventory and equipment savings operating and inspection costs and increasing accuracy and reliability. |
| Costs: | Consider and compare the costs of various alternatives for material handling equipment and methods for better productivity and profit. |
| Maintenance: | Plan long-term proactive maintenance and schedule repairs to improve equipment life and performance and reduce passive maintenance costs and downtimes. |
| Obsolescence: | Create a long-term policy to remove and replace outdated or obsolete equipment and processes. |
How much Does Material Handling Cost? How to Lower It?
Although automated material handling systems will help you improve overall efficiency and productivity, it requires a substantial initial investment. You need to check various overheads associated with your industrial lifting and handling setup.
You should consider the following four areas for your estimates:
| | |
| --- | --- |
| Shipping: | Various factors including the type, size, delivery location, and the frequency of delivery will affect your shipping costs. You need to check each element to see if you can drive the cost down. |
| Packaging: | Similar factors, including the mode of shipping, will determine your packaging costs. Outsourcing may be a good idea to lower your packaging costs. |
| Storage: | You will need to store your raw materials as well as finished products in warehouses and other facilities such as cold storage. Make sure to consider all these factors when calculating your storage costs. |
| Handling: | These costs involve everything from salaries of the handling personnel to the operating and maintenance costs of the handling equipment. |
If you can identify and optimize the following hidden costs involved in material handling, you will be able to keep your overall expenses down.
| | |
| --- | --- |
| Avoid Over-Handling: | Make sure all the employees are handling every item only when necessary. |
| Prevent Workflow Bottlenecks: | Optimize the entire flow of components and final products to ensure no equipment is idle as this can result in workflow bottlenecks. |
| Optimize the Space: | Whether it is intended for storage or installing a machine, make sure to utilize every inch properly. |
| Don't Waste Energy: | Use timers and sensors wherever necessary to save money on fuel costs and increase the life of your equipment. |
| Reduce Errors: | Identify the potential areas of error and eliminate them to improve overall productivity. |
| Get New Technology: | Replace your old equipment with the latest one to make sure your productivity remains unaffected. |
| Continuous Training and Optimization: | Provide your employees with training and optimize the process continuously. |
| Get Employee Feedback: | Your employees may have suggestions, ideas, and information that will help improve your material handling system. Make sure to take their feedback into account regularly. |
Think of Safety First
When driving down the cost and increasing productivity, you must not ignore workplace safety. Accidents will not only result in economic losses but also ruin your brand reputation. So, you need to think about ensuring workplace safety.
Always calculate the load weight and take potential risk factors into account before moving your cargo.
A thorough inspection of your industrial lifting equipment, safety gear, and the employees is a must before beginning each shift.
Turn off the equipment when it is not in use.
The employees should move around the plant through the safety zones and at safe speeds to avoid accidents.
Make sure only trained employees operate the material handling equipment.
Never lift a load over an obstacle under any circumstances.
Use helpers whenever necessary to get a clear view when moving the load.
Never raise or lower the loads when you are in motion.
Physical weariness and fatigue are quite common in the moving industry. Make sure to address these issues immediately.
Top Suppliers of Material Handling Equipment
Getting the right material handling equipment and using it to maximize your productivity can be tedious. You need an experienced, resourceful, and knowledgeable partner to help with your rigging hardware needs.
Holloway Houston, Inc. is a leading manufacturer and supplier of industrial lifting devices and services to a global clientele. With over 200 professionals, our ISO 9001:2000-certified organization will get your lifting project up and running in no time.
Here's why we are your best option when it comes to industrial lifting devices.
1) Authorized Distributor
We are the authorized distributors for Wirerope Works Inc (formerly Bethlehem Wire Rope) and Bridon International Wire Rope. Wirerope Works is a leading OEM manufacturer for lifting equipment and gear in Williamsport, Pennsylvania. Bridon is a recognized name in steel ropes, synthetic slings and fiber ropes.
2) Manufacturing
We manufacture a wide variety of wire rope slings, synthetic slings, alloy chain slings, and other premier lifting appliances for a variety of industries including energy, construction, oil and gas, and mining.
3) World's Largest Crosby Distributor
We are also the world's largest Crosby rigging distributor since 1989. From mooring sockets and swivels to IP clamps, you can order all Crosby shackles and products virtually anytime, from anywhere, with guaranteed delivery.
4) OEM Partnerships
We have also partnered with leading OEM manufacturers in the industrial lifting sector from around the world, bringing you a plethora of material handling products, equipment, and services at the most affordable rates.
Our dedicated, experienced, and highly professional team makes sure your orders get delivered on time, and you get a comprehensive solution for all your lifting, rigging, and material handling projects.
Wrapping Up
Choosing the right lifting devices and rigging hardware is easier said than done. You need to have in-depth knowledge of industrial lifting and handling equipment to improve your productivity, boost safety, and lower operating costs.
Hopefully, this guide will help you make smart choices when it comes to material handling. If you have any doubts or questions, feel free to connect with us. Holloway Houston Inc. is always happy to help.